I use my Pi B in my car to do timelapse photos powered off a cigarette to usb plug however I found that sometimes the plug would fall out and thus power down the pi. I also had the problem that even if I wanted to stop for 5 minutes which meant turning the engine off again the pi would be powered down. TO overcome this I thought I would look into using a usb power bank as a mini ups and here are the results of my testing.
I tested for both pass-through charging i.e. a power bank which allows to be charged while powering a device AND 'UPS' which is a usb bank which supports pass-through charging with the added feature of power to the connected device (pi) being uninteruppted when the mains charger was switched off/on.
1, AUKEY Mini 5000mAh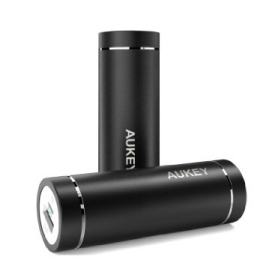 I puchased the Aukey on the back of the pcadvisor reviews
http://www.pcadvisor.co.uk/review/batteries/aukey-5000mah-external-battery-charger-review-3629046/
http://www.pcadvisor.co.uk/test-centre/mobile-phone/20-best-power-banks-2016-uk-summary-5-minutes-3534490/

I liked the fact that it was fully automatic i/e no buttons to press to begin charging and that it allowed for 2A in put and output meaning even if my pi drawed 1A when using the power bank in conjunction with a 2A plug/power supply it would mean it would always charge faster than the pi could run it down.
Alas after putting it into my test setup I found that it DOES NOT support pass-through charging.
2, Xiaomi Portable 10000mAh Mi


Like the Aukey the Xiaomi boasts a 2A input current and is double the capacity of the Aukey but has a physical button which needs pressing to begin charging a connected device. I'm please to report that this model DOES support pass-through charging however failed my 'ups' test in the fact that when mains power was switched off it briefly did so as well for a few seconds before coming back on, the same was seen when mains power was restored.
Although purchsed for a different project I thought I would feedback on this power bank. I bought it due to it's relatively high capacity and small form factor as well as having a LCD power display. Unfortunately I found it did not support pass-through or ups.
4, Anker® Astro Mini 3200mAh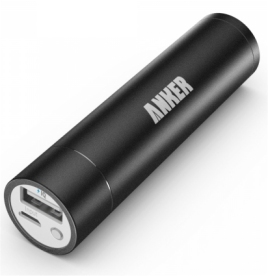 This was one of the first power banks I purchased and was happy to find it DOES support pass-through charging contrary to the pcadvisor review.
However it was noted that although it managed to power on the pi it did not completely boot due the power bank only giving out 4.6-4.8v thus made it unsuitable for my specific application.
When I checked my original amaon purchase link it now goes to the Anker PowerCore+ mini (3350mAh Premium Aluminum Portable Charger) which is a newer version and I don't know whether it supports pass-through. A quick google showed Maplin are still advertising the 3200mah version but this might be a typo or failure to update the spec.
5, Anker Astro 5600mah (1st Gen)
I purchased this some years ago but thought I would test it anyway and found it DOESN'T support pass-through.
Test Results Matrix

| Device | Pass-Through | UPS |
| --- | --- | --- |
| AUKEY Mini 5000mAh | | |
| Xiaomi Portable 10000mAh Mi | X | |
| Eachine Y5 6000mAh | | |
| Anker Astro Mini 3200mAh | X | X |
| Anker Astro 5600mAh | | |