I was looking for a 5v monitor for my Pi for use in the car but the ones are found seemed to be very expensive, undeterred I set about buying a 12v and adapting it to my needs.
I found one on Amazon for £12.46 which seemed to fit the bill perfectly. Described as
BW® 4.3" Color TFT Car Monitor Support 480 x 272 Resolution + Car Rear-view Mirror System Monitor, Mini Monitor for Car / Automobile
Digital color TFT LCD car rearview monitor,4.3 inch TFT LCD Screen Size, 480 x 272 Resolution,16 : 9 Display Format
It is with high quality and good durability,With small appearance,convenient for carry,Support 2-channel video input(V1, V2).
It Support multi-role display,With high definition for good image,With a stand holder which has adhesive sticker in the bottom for sticking it in the car.
It Support automatically startup detection when reserving,It can connect with reversing camera, DVD, VCD etc.
It is installed in the drive foreground,Video system: NTSC / PAL auto switchable,Display black screen on no signal,Visible area: 72 x 53 mm.
Ok so at 480 x 272 not mega resolution but perfectly useable to my console command line based application.
Contents of the box was the monitor with hard wired phono audio and video cables and a socket based power connector with inline fuse. Also was a sperate jack plug with bare red and black wires for connecting to your power source.
I thought I would power it up just to make sure it worked before taking it apart, plugged into my home made bench psu and nothing?
I put my multimeter on it to make sure the psu was working properly and it was?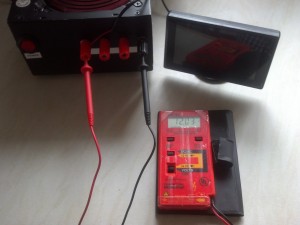 I then plugged in my Pi and the screen sprung into life.
It seems a 1p bulb is too much to ask for on a £12 monitor.
**** WARNING MAKING THE FOLLOWING CHANGES WILL OBVIOUSLY INVALIDATE ANY WARRANTY ETC, CONTINUE AT YOUR OWN RISK, I ACCEPT NO RESPONSIBILITY IF ANY OF YOUR EQUIPMENT BREAKS/CATCHES FIRE ETC ****
Removing the four small screws on the rear and opening the case revealed a simple circuit board.
After some digging around with the multimeter I found a 5v supply on the CHMC 8AY 1508-AD chip.
I removed the red feed wire from it's currently location onto the 5v leg of the chip and added some electrical tape for strain relief.
Now time for the test (fingers crossed)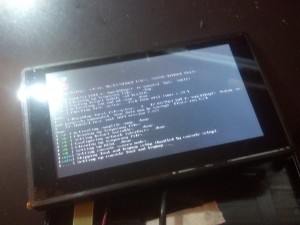 Great it powered up fine.
Wanting to run off a usb cigarette adapter in the car I added a USB connector to the bare red/black wires of the jack plug,
The finished article.